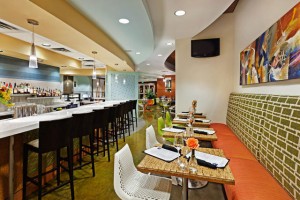 Hotel Indigo's contemporary lobby bar serving all-day American bistro fare, plus house cocktails.
Introducing a new culinary experience in downtown Asheville…oneFIFTYone Boutique Bar & Kitchen…modern, eclectic, serving local fare in a sophisticated bar atmosphere. Located in the lobby of Hotel Indigo, oneFIFTYone invites Hotel Indigo guests, and Asheville residents, to come enjoy the experience.
In the morning, oneFIFTYone serves fresh brewed coffee from Dynamite Roasting Co. in Black Mountain, NC plus a full, cooked-to-order breakfast menu, a variety of freshly baked pastries, organic juices, and vitamin water. For lunch, sample one of the made-from-scratch soups, specialty salads, wraps or paninis. Evening delights include gourmet "small plates" and flatbreads, nightly entrée specials, mouth-watering desserts, plus exquisite martinis, hand-selected wines and brews. OneFIFTYone is committed to using fresh, organic and seasonal ingredients that support local farms and businesses in the Asheville, NC region.
151 Haywood St.
Asheville, NC 28801